Strip pouch packaging automation systems increase efficiency, speed, and accuracy for your pharmacy.
They also help you win more long-term care facility business by providing a safe and easy way to dispense medications. Patients and caregivers will know exactly what medication to take, and when.
Currently, blister cards are the norm for many long-term care facilities.  Strip pouch packaging increases safety and makes it easy to dispense medication to patients.
The benefits of strip pouch packaging
A strip pouch packaging system improves pharmacy efficiency and safety, and they make dispensing medication easier for long-term care facilities. They also create happier caregivers as the packages are very simple and easy to use. With the ability to tie into your EMAR system, there are fewer steps in the administration process.
Increased efficiency
The strip pouch packaging production increases your overall efficiency. The system releases facility orders in batches and lets you know if the batch can be filled with current stock levels in the cassettes.  It has enough space for a large formulary. This pharmacy automation system also makes it easy to add one-time medications without halting production.
An efficient workflow increases your pharmacy's overall output and can boost profit as well. A pharmacy strip pouch packaging automation system allows you to take on new clients and LTC facilities without needing to increase staff or hours. With the strip pouch packaging system doing the majority of manual tasks, more time can be dedicated to winning more LTC facility business.
Improved Organization
Disorganization often wastes time, reduces efficiency, and increases labor costs. Strip pouch packaging systems will organize your pharmacy's workflow, and make it easier to win more LTC facility business. The software generates a pill report that is continuously monitored to identify fast-moving medications. The strip packager then uses active cassettes and tray management to dispense medications in an uninterrupted workflow. Trays can be filled ahead of time, minimizing the labor previously required to deliver manually via trays.
Increased productivity
With an automated system taking care of sorting and filling the prescriptions, pharmacists can fill more prescriptions faster. You'll be able to increase the number of patients and long-term care facilities you serve. The increased output also allows you to spend more time providing excellent customer service, setting you apart from other competitors and winning more LTC facility business.
Reduced costs
The automated strip pouch packaging system will reduce the labor costs that are associated with filling other delivery methods like vials or manual blister cards. Automation is more efficient than manual filling. Automation cuts down on costly human errors as well, both in the pharmacy and in the LTC facility. The automated strip pouch packaging systems verify the right medications are in the pouch with great accuracy.
In a case study with EverSpring pharmacy, they were able to use the Noritsu Xana 4001 strip pouch packagers to save money by maintaining output while decreasing payroll hours by 50%. The automation system also increased the output by 25% while decreasing the run time from 16 hours to 10 hours per day.
Improved safety
Pharmacies can feel confident in providing the patient with the proper medications and correct dosages. The packaging system has medication and pouch detection, which archives a digital image and associated data for every pouch the packaging system produces. A pharmacist visually checks images flagged by the system on the screen before completing the order.
Patient information is also printed directly on the package, along with information on when to take the medication. This safety feature can help your pharmacy win more LTC facility business. Strip packaging makes it easy for staff at LTC facilities to consistently dispense medication to the right patient, and feel confident that the pouches have been accurately filled with the correct medication. Patients and caregivers will appreciate that added safety feature.
Benefits for LTC facilities
LTC facilities will be happier after making the switch to strip pouch packaging. Rather than fiddling with vials or blister cards, staff can easily dispense medication and save time. Strip pouch packaging will increase efficiency for LTC facility staff, both in dispensing medication and charting. With patient information clearly labeled on all the packaging, and the medication sorted into doses for each patient, it's easier to get the right medication to the right patient every time. Strip pouch packaging is also much easier to open than blister cards or traditional vials, so caregivers can easily dispense medications.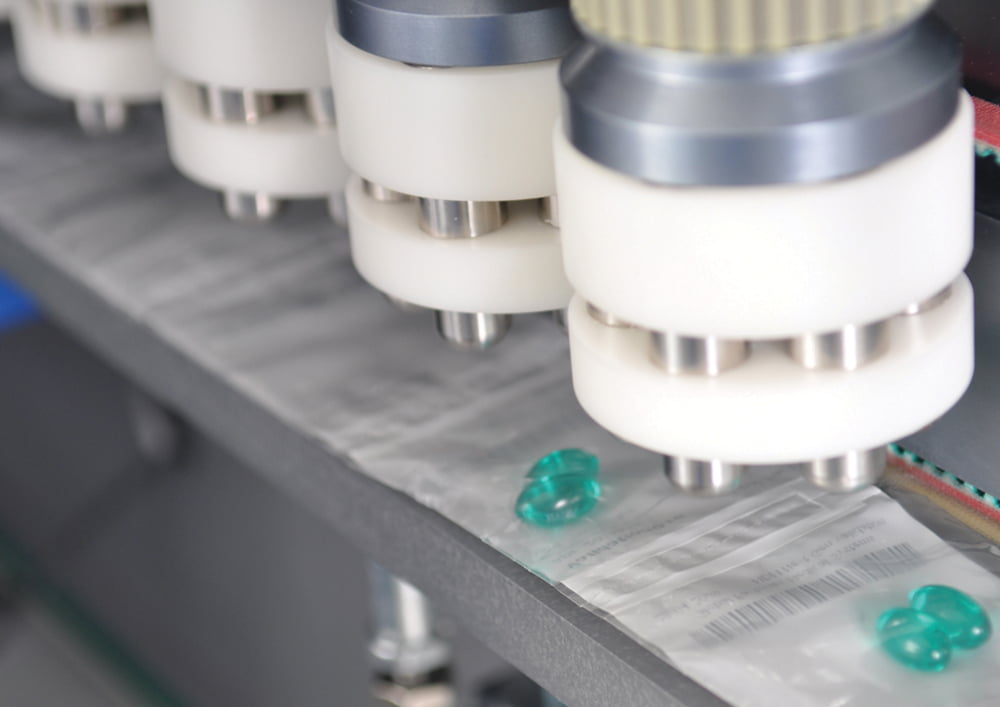 How to win more LTC facility business
Not every LTC facility owner will initially see the value in strip pouch packaging. They often have an established method for dispensing medications to patients and sometimes change is difficult. Here are a few effective methods of communicating the benefits of strip pouch packaging to LTC facilities.
Live demonstrations of strip pouch packaging
When meeting with LTC facilities, you can bring strip pouch packaging of vitamins for an on-site demonstration. This will give them an idea of how convenient the packages are when compared to the task of opening multiple bottles or blisters and recording the dispensing information for each pill.
Create a video demonstrating a patient using strip pouch packaging
A video demonstration of a nurse using strip pouch packaging can emphasize the convenience of the packaging for LTC facility employees administering multidose med runs. It can highlight the ease of opening the package compared to repeatedly opening blister cards or vials, which after time, can cause repetitive motion issues.
Video demonstrations can be used on websites and through social media. They can also be used in in-person presentations.
Articles on the benefits of strip pouch packaging
Articles and blog posts can break down all the benefits of strip pouch packaging into words. Some people like to read about the different benefits prior to making a decision to use them in their business. Blog posts can be shared on social media and referred to in the future when people ask about strip pouch packaging.
Strip pouch packaging solutions
Strip pouch packaging is the latest in pharmacy automation solutions. It is safer and easier to use than blister cards or traditional vials. Strip pouch packaging offers time and money savings for long-term care pharmacies, and great value to LTC facilities. Caregivers will appreciate the ability to administer medications without the repetition of opening blister cards and pill bottles.
Noritsu offers automated pharmacy systems that will improve the dispensing speed, accuracy, and safety through strip pouch packaging. Learn more about Noritsu's strip pouch packaging solutions.