Automated pouch packaging systems have helped pharmacies provide patients with single doses of medication by sorting and packaging each dose. This type of medication pouch packaging reduces the time that the patient or caregiver has to spend sorting and dividing medication into daily doses.
Automated pouch packaging is extremely helpful for long-term care facilities that have residents who take a large number of pharmaceuticals. They can easily track the doses that have been taken and ensure that the amount of medication is accurate.
What is Automated Pouch Packaging?
Automated pouch packaging is a system where machines divide medications into single doses and package them, personalizing the dosage for the patient. It is sometimes referred to as strip pouch packaging or medication pouch packaging and has recently seen tremendous growth as an option to blister card compliance packaging.
Automated strip pouch packaging provides consumers with the right dose and can indicate the time of day to take the medication. This way, consumers don't have to wonder if they have taken their daily dose. The automated systems can even cut the pills to provide a half pill if needed.
After the medication is sorted and dosed, it is sealed in an airtight package that is convenient and travel-friendly. The single-dose packages can be handled by caregivers without worrying about contamination. They can also be taken easily onto business trips or vacations.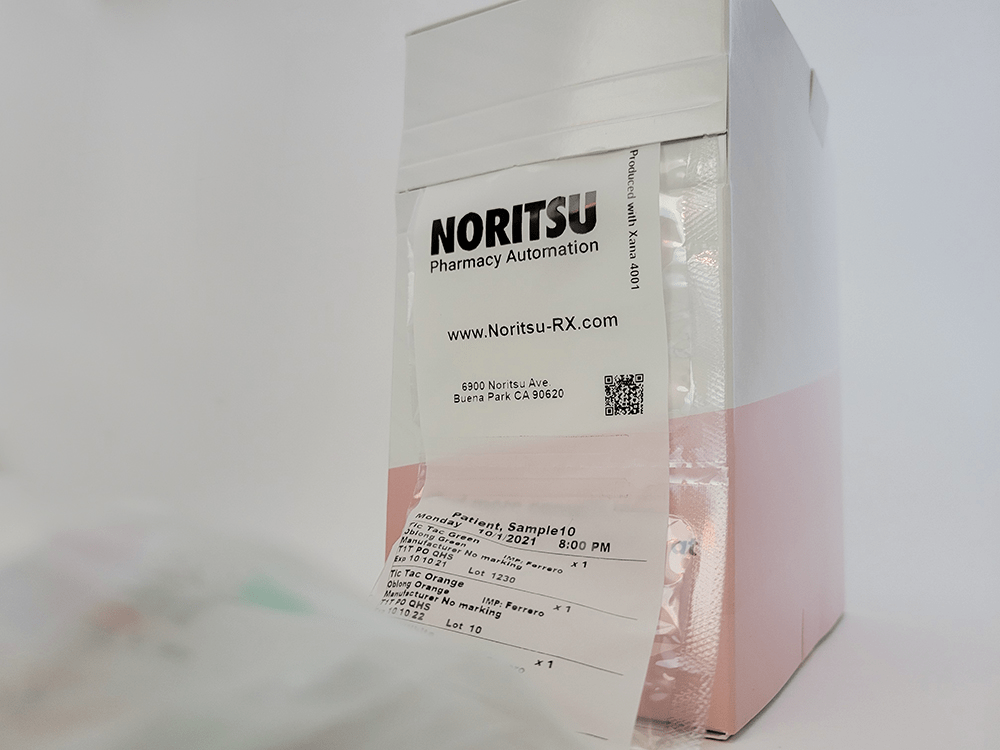 Benefits of Automated Strip Pouch Packaging
Long-term care pharmacies have seen dramatic increases in productivity gains by adding automation systems for medication pouch packaging. High-speed machines are used to fill strip pouches and check them in minutes for greater accuracy in the Central Fill and direct consumer markets.
Increased Dosing Accuracy
Long-term care facility patients need their medications divided up into individual doses. Unfortunately, sorting medication by hand is very time-consuming, and there is plenty of room for human error. With automated pouch packaging, creating individualized doses that are easily dispensed can be done in minutes. Once the medications are sorted, they can be visually verified by patented checkers against a library built from your formulary.  This reduces human error and is much more efficient than checking with a human eye.
An Increased Customer Focus
Using strip pouch packaging automation, productivity and accuracy are both improved, allowing pharmacists and pharmacy technicians to tend to customer-focused tasks. Pharmacists can spend more time answering patient questions and monitoring the customers' drug therapies to check for medication interactions.
Automated machine packaging can allow pharmacists more time to focus on patient screenings for COVID-19 and flu vaccinations. Pharmacists can provide more personalized care and help to improve the overall health of the community through increased vaccinations.
Personalized Healthcare
Every individual has a different medication regimen and some are far more complex than others. Automated pouch packaging can improve the patient compliance with their medications by packaging every dose and labeling it so that the patient knows whether they took their medication for morning or evening that day.
The strip pouch packaging machines have patented verifiers to check the contents of every medication pouch to ensure that the contents are accurate. This process provides patients with accurately measured medication doses.
Greater accuracy in medication doses and increased convenience improves patient satisfaction and compliance. Patients can rest assured that they are taking the dosages that are prescribed to them and not skipping them because each dose is labeled. The patients will notice if a dose is still packaged and can take it when it is convenient. Caregivers can quickly and easily dispense the medication in care facilities.
Reduced Labor Expenses
Since automated pouch packaging is run by a machine, you just have to make the initial investment. The machine can accomplish the workload of a couple of pharmacists. You don't have to spend as much time checking medications because the medication detection machine will do that for you.
The Future of Medication Packaging
Medicine is becoming more personalized as practices adopt electronic health records and doctors can access the full medical records. Filling prescriptions is evolving to become more personalized as well. The automated strip pouch packaging systems increase the safety of taking multiple medications.
As concerns grow about the number of people handling medications, automated packaging systems will become more popular. Machine automation reduces the number of people who touch the doses and decreases the likelihood of contamination.
Pharmacies that adopt an automated strip pouch packaging system will be able to win more long-term care facility businesses as they are able to provide them with safely packaged medications in individualized dosing. LTC facility patients will appreciate the easy to open pouches that make taking their medication more efficient. They can also assure the residents that the medication is uncontaminated.
How to Get Strip Pouch Packaging For Your Pharmacy
Investing in automated pouch packaging is a big decision. You must consider your budget, space, and the design that will suit your needs. The first step is to sign up for a consultation. Our experts can help you determine exactly which model will fit your needs and stay within your budget.
Once you select the automated packaging system, we will walk you through setting it up. We are there for you for the long haul to provide ongoing support to fine-tune your workflow and production in order to increase productivity for labor savings maximization. After that, our service and support are all provided in-house to ensure that you receive support and knowledge when you need it.
The benefits of strip pouch packaging reach patients, health care facilities, and pharmacies.  Whether it's a unit-dose, multi-dose, or a combination regimen you provide to your customers, Noritsu's compliance packaging systems increase efficiency and offer you peace of mind.
Whether you are new to automated pouch packaging systems or are looking to upgrade your older pill packaging system, Noritsu has a solution that will fit your business. From space-saving designs to deluxe machines, Noritsu has a strip pouch packing machine that will fit your needs. Contact Noritsu today for a no-obligation consultation.